Team List - 2017
Meet the teams participating in the Regina Dragon Boat Festival, learn who they are, and where they come from.  Team bios (Click team name to expand) will be added as they are received from teams so if you do not see your team bio, it is likely in the works.  Check back regularly for updates.
Please contact us if you would like your team added, changed, or have any concerns or questions.
Pond Scum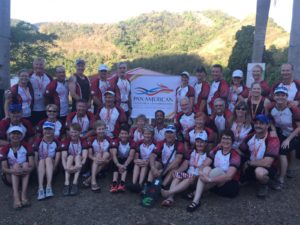 The Prairie Dragons Paddling Club is a non-profit organization which brings together dragon boat paddlers for sport, recreation, fitness, education, competition and fun.
 Pond Scum is the Prairie Dragons' competitive crew consisting of a core group of paddlers from Regina plus others from Calgary, Lethbridge, Winnipeg and Edmonton. The average age of this crew over 50 but they still manage to compete at a high level.
This crew has been competing for over 25 years attending numerous festivals throughout western Canada and internationally. They are 9 times winners of the Competitive Division at their local Regina Dragon Boat Festival and have competed at 4 Club Crew World Championships since 2004. (South Africa - 2004, Toronto - 2006, Malaysia - 2008 and Italy - 2014).
Pond Scum has recently returned from the 2017 Pan American Club Crew Championships (March 17-19, 2017) in Puerto Rico where they competed in 24 different race categories over 3 days and medalling in 22 of them bringing home 5 GOLD, 10 SILVER and 7 BRONZE medals.

Check out their website at www.prairiedragons.ca
The Prairie Dragons would also like to extend special thanks to all the Regina Dragon Boat Festival organizers and volunteers who work so hard to make this fantastic event happen every year!
Dragon Pac
Dragon PAC was formed in 1997 by a group of friends who wanted to get together and have some fun.

We were in the Mixed Rec Division for a number of years before moving into the Prairie Cup Challenge in 2011. Since being in the PCC we have won the title 4 times and have won the sprints twice. The group has changed quite a bit from the original 22, but we are still a bunch of misfits who still like to have a good time.

We are usually the last people in the beer tents and can usually be found wandering down Albert Street looking for another watering hole after the tent closes. 
Dragon Our Cookies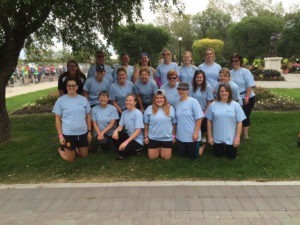 Dragon Our Cookies - this is our 17th year participating in the festival. The team is made up of past & present members of Girl Guides of Canada along with some friends. There are 2 women that have been on the team every year we have raced.
Our best finish was 2nd place and we are proud to say we've never finished last!!
We enjoy fun, friendship & adventure on Wascana Lake each summer.
Girl Guides of Canada - Guides du Canada - Register NOW at www.girlguides.ca for Sparks, Brownies, Guides, Pathfinders, Rangers or to become a volunteer.
Busting with Energy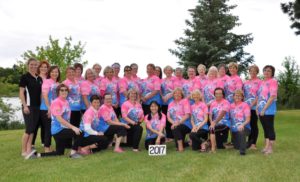 Busting With Energy(bwe), a team from Saskatoon,SK is composed entirely of breast cancer survivors with a broad range of ages (40-80 yr) and PHYSICAL capabilities. Our team is a symbol of hope: a person can have a funfilled, active, fulfilling and exciting life after breast cancer.

In the past, BWE has paddled in Lethbridge, regina, edmonton, calgary, and Kelowna as well as in International Breast Cancer Paddling COMMISSION (IBCPC) festivals in Vancouver, Peterborough, and Sarasota, florida. We are now excited To be planning and fundraising for our journey to the 2018 Ibcpc festival in Florence, Italy.

We look forward to participating in the Regina festival.  "We have spirit, yes we do"
Sisterpower
We are from Medicine Hat Alberta, and this will be our second year coming to the Regina Festival.
Our team was brought together in 2006 because of a common bond, Breast Cancer survivors or supporters of survivors.  This years team is comprised of original paddlers from the early years to paddlers who have just started this spring.  We want to provide an opportunity to all women to participate in a sport regardless of age or ability.  We have developed many friendships, on our 45 minute drive to Elkwater to practice each week.  Our goal is to better ourselves each race, one stroke at a time. 

We paddle because we can, and to get over the finish line -- see you there!
Dragonauts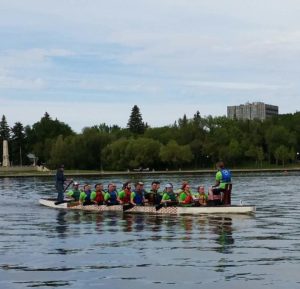 Dragonauts are a group of friends getting together for fun and a challenge! With lots of new faces every year, we aim to have a good time together! Here for the races, 2000 meter challenge race and the paddler games!
Several of our paddlers travel to out of province festivals with other teams, mainly the Winnipeg 10 man festival September 8th & 9th.
Putting the "Win" in Wingate
Amnesty Rocks the Boat
Amnesty International is the largest and most well-respected human rights organization on earth, with two all-volunteer groups in Regina. When not fighting for human rights in Canada and around the world, we have fun paddling as "Amnesty Rocks the Boat". We have been in the festival for seven years, but this year thirteen of our crew are rookies. Look for our black shirts with the yellow crests: shining light in the darkness.