REGINA DRAGON BOAT FESTIVAL OPENING CEREMONY
Awakening the Dragons
What is the 'Awakening the Dragons' Opening Ceremony?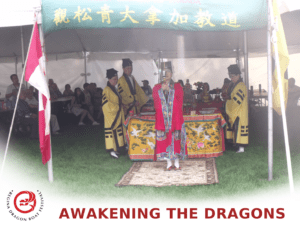 The ceremony traditionally ends the slumber and re-energizes the spirit of the dragons after a long winter.  The priests blessings ask for safety and good luck for all and culminates with the dotting of the eyes with paint to signify the awakening of the dragons.  The entire performance lasts about 45 minutes and is performed by the Ching Chung EvergreenTaoist Priests from Vancouver, Canada who have performed this ceremony since 1992. The ceremony also includes a traditional Lion Dance performed by Chung Wah Kung Fu school and Dragon Dance performed by Confucius Institute of the University of Regina.
The opening ceremony is FREE and open to the public.  It is the kick off to the Festival races that begin Friday afternoon.
Dragon Festival Oath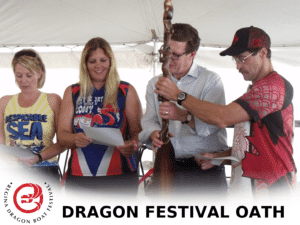 This single paddle represents harmony, friendship and peace among the world's people. With the symbolic passing of this paddle, we pledge our commitment to the unification of that multi-faceted community with humility, goodwill and dignity. To harmony, friendship and peace.