DOCK UPGRADE PROJECT
Paddlin' the Prairies | On Regina's Mighty Shores
DOCK UPGRADES
Thanks to some sponsors, the docks in the marina are being upgraded to accommodate the dragon boats.
Overview
The primary improvement is to add longer, wider docks and fingers to the existing Wascana Centre Marina infrastructure.
The existing fingers were only 15' long as compared to the 48' length of the dragon boats. A few fingers will be full length (40′) and lengthen the rest of the fingers to a certain extent (30′ and 20′).
The festival continues to support and attract participants with varying disabilities. This includes persons with physical and mental challenges, and the "Outta Sight" blind paddling team formed in 2013. The team characteristics and fundamental physical paddling requirements for dragon boating make it one of the best sports for participation and camaraderie for people with disabilities.
The Saskatchewan Blind Sports Association (SBSA) website states:
Dragon Boating is a unique sport as it requires no specific adaptations for blind and visually impaired people to participate.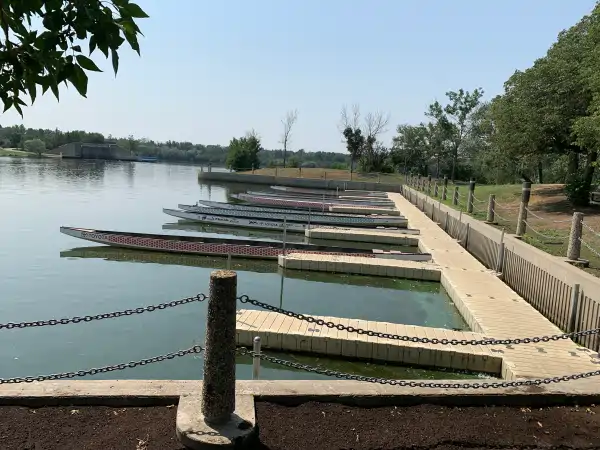 Community Need
The Wascana Marina dock infrastructure was highly inadequate for the needs of athletes with disabilities due to the width and length of the floating docks and fingers. Loading people with disabilities in dragon boats is unsafe and problematic because:
The fingers were less than 1/3 of the length of the dragon boats
Paddlers would need to clamber over 7 rows of seats to get to the back of a narrow, unstable boat
The narrow fingers made it difficult for guides to usher people with disabilities to the appropriate dock, assist them in getting into the boats and ensure they do not fall off the dock
Room for wheelchairs is very limited and problematic
The lack of a permanent exit dock to complete a full circuit with dock ingress and egress points during festivals makes things even more problematic. A temporary dock that was installed had people with disabilities need to navigate this temporary dock section bucking and swaying problematically like a fun-house floor at a carnival (difficult for able-bodied athletes as well).
For a team of athletes with disabilities, there were many people involved in loading and unloading a boat and can be a drawn-out, dislocated process. Able-bodied athletes that are elderly or less physically adept also struggle frequently.
Problems were magnified during festivals when multiple boats are loading and unloading simultaneously. The docks became very busy and crowded, with people crossing paths and various officials coming and going and the festivals frequently end up running late.
Dock improvements will remove barriers in the community for athletes with disabilities participating in major aquatic events and increase accessibility to the sport of dragon boating. As per Outta Sight paddler Amber-Joy Boyd, an improved permanent dock system allows people to mentally map the layout creating more independence by allowing people to navigate it more easily without the need for a guide.
Guiding people who are blind and partially sighted, assisting persons with mobility or balance problems, or navigating a wheelchair on a narrow dock becomes a significant barrier to participation and is a safety concern. These improvements will address accessibility and safety gaps in the sport.
Community Impact
Dragon boating is one of the best activities to enhance inclusion in sports and recreation for people with disabilities. Many other para-sports compete in leagues or divisions that are specific for athletes with disabilities that have altered rules and equipment. Able-bodied athletes may be reluctant to participate in adapted sports.
In contrast, dragon boating provides a single competition for all with few or no adaptations for people with disabilities. Individuals with many types of disabilities can be high-performance members of able-bodied teams and contribute equitably in high-level competition. Para-dragon teams can compete directly against typical teams with no changes in rules, strategy or equipment on either side. It is highly unusual for persons with disabilities to compete directly against able-bodied athletes in most sports. This makes dragon boating highly inclusive.
Sponsors
We would not have been able to reach our goals without the support of partners in our community. We would like to thank:
Regina Dragon Boat Festival
August 30-31, 2024 Regina Dragon Boat Festival
The Annual  Regina Dragon Boat Festival has been a long-time favourite event for paddlers, residents and visitors from across Canada.
Our city and dedicated volunteers welcome you to Regina's beautiful Wascana Park for a summer experience of festival excitement and camaraderie second to none.