REGINA DRAGON BOAT FESTIVAL
Dragon Boat Team Bios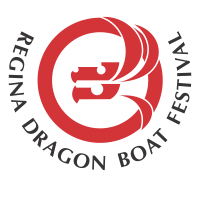 Hope We Float
The team formed around 2002 and was originally known as the Lab Rats. It was made up of lab people from the Vet Lab, RCMP Crime Lab, RGH lab, a few city police members and a few friends. In 2003, the name was changed to Hope We Float! as many of the original team had dropped out. The best year of this group was 2004 when the team won a silver medal in the Adult Rec Division.
After a year off in 2007, a new management group revived Hope We Float!  in 2008. This group was made up of various Lab Techs, along with many friends and family members who all pitched in to fill the boat. This team's best year was 2012 when a medal was achieved in the Adult Rec D Division. Hope We Float! has consistently placed between 10th and 15th most years, having lots of fun along the way! Another management change occurred in 2016, and now in 2017, Hope We Float! is back. Once again made up of lab personnel and previous team members, we are excited to participate in this years' festival.
Lily Dippers
Lily Dippers are a ladies team established in 1994. We are a group of Tremendous gals who love to paddle. Ladies of all ages, professions, and abilities paddling for fitness, fun, and friendship. We have competed as a team in Lethbridge and Regina festivals.  Many of the gals have gone on to compete internationally in many dragon boat festivals.
Soggy Bottom Buoys
The Soggy Bottom Buoys have been racing in the Regina Dragon Boat Festival since 2002. As their jersey says, "Sweet on you since 2002!"
You can pick out the team with their vivid blue/white/orange jerseys and hear them coming when they sing their infamous chant. You can check out their team photos and more on their own team Facebook page.
Cox Blockers
While they have competed once previously (2 years ago), the Cox Blockers are calling 2017 their 2nd debut into the world of dragon boating! The team consists of mainly of pharmacists and pharmacy technicians from the Regina Qu'Appelle Health Region with a little help from their friends.
It will be their first time on the lake for over 50% of the paddlers on this team, but do not underestimate this team, as their competitive spirit is as strong as some of the drugs they provide!
At Least We Rowed Up
This will be our third year taking part in this festival. This year we have a lot of new people and are excited to see how we can do. We participate in the festival strictly for fun.
This year we would like to improve our skill and compete a little harder.
The Co-opegators
Is that chomping you hear in the distance? Must be the Co-opegators Dragon Boat team, sponsored by the Co-operators Life Insurance Company. The Co-opegators have been participating in the festival for the last 17 years. They love hot summer days, long walks down the swamp, and can be frequently found devouring their natural prey: ICE COLD BEER.
If you root for only one reptile-themed, insurance company sponsored team this year, make it the Co-opegators. And be sure to CHOMP along!
The Screamin' Seamen
TBA – The Screamin' Seamen are the long-standing title holders as the Regina Dragon Boat Festival brightest team jerseys. The team is at home in the Dragons Lair having fun with everyone and playing Flip Cup.
Despicable Sea
The team name Despicable Sea is a parody of the animated movie "Despicable Me", which is about a clumsy villain who has dozens of little yellow Minions that do his bidding.
Since the dragon boat team contains mostly clumsy misfits and orphans, the name Despicable Sea was a perfect fit (that, and their original team name was already taken). With their bright yellow shirts, costumes and silly antics, they're hard to miss at the festival!
The team's first appearance at the 2014 Regina Dragon Boat Festival was done in true Minion fashion.  From getting spectators and officials to sing along to their merry chants, to crashing into another boat on the first race, Despicable Sea had plenty of fun and debauchery, which made a name for themselves – and even attracted paddlers from other teams!
Despicable Sea has attended the festival in Saskatoon, and is planning to attend other festivals across Canada… on their journey towards world domination!
Check out their website: despicablesea.com
Papetista
Papetista is a Regina based dragon boat team made up of breast cancer survivors and their family and friends. We have been participants in the Regina Dragon Boat Festival for over 10 years, paddling to raise awareness of breast cancer in the community. Last year, Papetista was the silver medallist in the Breast Cancer Survivor category.
Papetista participates in the Rose ceremony, in remembrance of those that have lost their battle with cancer. The festival provides roses that are thrown into the water, followed by a moment of silence.
In 2016 you may recall seeing Papetista in this CBC story.
The CI Dragon
The CI Dragon is a university-based dragon boat paddling team, funded by the Confucius Institute (CI) at the University of Regina. The Confucius Institute is a joint initiative between the University of Regina and China's Hunan University in Changsha, Hunan Province, which aims to promote Chinese language and culture in the local community, as well as enhance the mutual understanding between China and Canada. The establishment of the Confucius Institute is based on the longstanding relationship and the growing intellectual and economic exchange between Canada and China. Since the Dragon is the most important and legendary creature in Chinese history, we wish to inherit the power and spirit of the dragon. Thus, we call our team the CI Dragon.
The CI Dragon has been a part of the Dragon Boat Festival since 2012. We are a fun, inclusive, and energetic team, with people from many different backgrounds. Although we may not be the best team when it comes to skill, our upbeat energy, and optimistic spirits are what makes our team great!
We love to have fun, make new friends, and get a nice tan while we're at it!
MNP/MLT Alligators
The MNP/MLT Alligators are participating in their 3rd Regina Dragon Boat Festival in 2017
Dragon PAC
Dragon PAC was formed in 1997 by a group of friends who wanted to get together and have some fun. We were in the Mixed Rec Division for a number of years before moving into the Prairie Cup Challenge in 2011. Since being in the PCC we have won the title 4 times and have won the sprints twice. The group has changed quite a bit from the original 22, but we are still a bunch of misfits who still like to have a good time. We are usually the last people in the beer tents and can usually be found wandering down Albert Street looking for another watering hole after the tent closes
Municipaddlers
Municipaddlers, we have a dragon boat team. Although their paddles say something different. The Municipaddlers have been representing the City of Regina for 26 years in the Regina Dragon Boat Festival. Their name originated from an employee contest which resulted in numerous words. Once all the mixing and matching was done, Municipaddlers was founded and the rest is history.
The Municipaddlers are long-time ambassadors and volunteers of the festival, taking their fun, inviting nature to every festival they attend in and outside of Saskatchewan.
The Team Captain, Chris Greyeyes has been paddling on this team and in the festival for 26 years as well. He's one of the festival's original paddlers. If you have no favourite team in this event, make the Municipaddlers your new one. They're here representing you, the citizens of Regina.
Sisterpower
We are from Medicine Hat Alberta, and this will be our second year coming to the Regina Festival.
Our team was brought together in 2006 because of a common bond, Breast Cancer survivors or supporters of survivors.This years team is comprised of original paddlers from the early years to paddlers who have just started this spring. We want to provide an opportunity to all women to participate in a sport regardless of age or ability. We have developed many friendships, on our 45 minute drive to Elkwater to practice each week. Our goal is to better ourselves each race, one stroke at a time. We paddle because we can, and to get over the finish line — see you there!
Check out their team chant from #RDBF2016.
Regina Dragon Boat Festival
August 31st & September 1, 2018